Today's article is inspired by some questions around audio reactive visuals/effects in Resolume.
Hi , so i VJ mostly on psytrance partys , and i find it difficult to use sound input for example in Resolume 5 as it just can't distinct the beat or melodys in this style of music , it's just too "full" of frequencies 😀 I tried with a direct line from the mixer , short connection , and long distance with a DI box and XLR cabling. Tried RCA cables . Used multiple different soundcards and currently i'm going with an external mic on the mic in port what seems to work best… – reddit
Audio reactive visuals seem like the dream. Music plays, then visuals magically appear and dance to the music. I know I was really excited about audio reactive visuals when I first got into Resolume.
However it's not as simple as that.
Today I'm going to talk about the problems with audio reactive visuals/effects and what you should use instead.
First let's look at how audio reactive visuals work in Resolume.
Audio Reactive Visuals In Resolume
Audio reactive visuals/effects is exactly what it sounds like, controlling effects/visuals using an audio source (i.e. music). There are a number of options for audio inputs/sources inside of Resolume: external/internal microphone (external fft), line input (external fft), clip audio (clip fft), or composition audio (composition fft).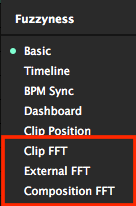 Once you've chosen an audio source, Resolume can display the frequency range of the incoming audio using Audio FFT (Fast Fourier Transform). The audio's frequency range can be used to trigger (or animate) parameters/controls in Resolume. The louder the audio signal, the higher the frequency range will be which impacts how much the controls react. You can use the entire frequency range of the audio or limit it to a specific frequency range. Resolume has three buttons to quick isolate the frequency range to high, mid, or low.
This all sounds great, so what's the problem with audio reactive effects/visuals?
NOTE: For the purpose of this article audio reactive visuals means animating effects, controls, or source parameters in Resolume.
Problem 1: Lack Of Control and Inconsistent Visuals
When using audio reactive effects you lose a lot of control over the look of the visuals. The effects are really at the mercy of the audio source.
If the audio is too loud this can cause your effects to be over the top or create "shaky" visuals as seen below. If the audio signal is too quiet then the visuals may not react at all making them lifeless.
You can always adjust the gain of the audio signal in Resolume but if the volume picks up again you'll need to bring it back down.
This lack of control over the visuals makes it difficult to create a consistent performance. You should be guiding the direction of the visuals and not leaving it to random chance.
Learn how to make your own visuals using only Resolume
Problem 2: Requires a Direct Audio Input For Best Results
Making audio reactive visuals means that you need a direct connection with your audio source (the band, DJ etc.).
Depending on where you're setup getting a direct connection between you and the performer may be difficult.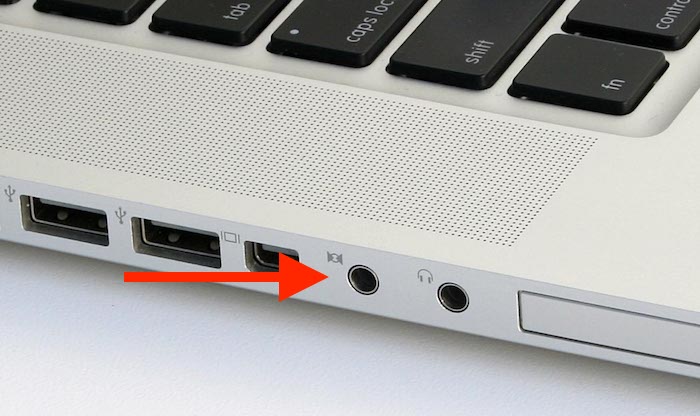 Using an external microphone is out of the question, there's too much noise that will interfere and you won't pick up the performer.
If your performance is largely built on audio reactive effects and you can't get a direct audio connection than you're out of luck.
Problem 3: Difficult To Isolate Frequencies
When people think of audio reactive visuals they imagine the visuals reacting to the beat, which would be the main downbeat or kick drum.
A fully produced song is usually very busy in terms of the frequency range. There's a lot of instruments and effects in the mix.
Even though Resolume has the ability to isolate frequency ranges, it's difficult to isolate just the kick drum.
When you're isolating the low frequencies (drums, bass) there will still other elements like a sub bass that can clutter the frequency range and make it difficult for the kick drum to stand out.
This is still an issue even if you have a direct audio signal from the performer or you're using a song internally from Resolume.
So what's an alternative to making visuals move to the beat if audio reactive effects don't really work?
Use BPM Sync To Sync With Music
For more control and consistency with your visuals I'd recommend using BPM Sync in Resolume if you want to make your visuals sync to the beat. The idea is still the same, your effects are still being driven by the music but it's using the BPM/tempo of the music, rather than the audio's frequency.
BPM Sync also gives you more control over the intensity of your effects. You can adjust the beat interval so that effects trigger every beat or make the animation last longer by increasing the beat interval to 32 Beats or 64 Beats. This makes it easier to visually see the beat and won't leave you with those shaky visuals that you saw earlier.
BPM Sync also doesn't require a direct audio signal since it's using Resolume's BPM. You can either manually tap the BPM in or you can wirelessly sync to the DJ/performer using a tool like Ableton Link (one of the new features in Resolume 6).
Do You Make Audio Reactive Visuals?
So does this mean you should never use audio reactive controls? Of course not, feel free to experiment and use whatever works for you. This is simply meant to show the limitations or challenges of making audio reactive visuals. If you're someone who has made amazing audio reactive visuals I'd love to see what you've made or if you have some suggestions around using them.
Summary
Article Name
Should You Use Audio Reactive Visuals?
Description
Audio reactive visuals aren't perfect. Today I'm going to talk about the problems with audio reactive visuals/effects and what you should use instead.
Author
Publisher Name
Publisher Logo