Resolume 6 Beta was released last week and it added an amazing feature, Ableton Link. This feature makes it really easy to VJs to quickly sync to DJs and use BPM synced visual effects. If you work with DJs you're going to love this.
Today I'm going to explain what Ableton Link is, how it works, and the benefits of using it in Resolume 6.
Already familiar with Ableton Link? Jump right to setting it up with Resolume
What Is Ableton Link?
Ableton Link is an open source tool designed by Ableton to help solve the problem of syncing audio/video applications.
Link is a technology that keeps devices in time over a local network, so you can forget the hassle of setting up and focus on playing music. – Ableton.com
Previously syncing the tempo/BPM of audio applications required using Midi Clock. Although syncing with midi clock works, it has several drawbacks.
Midi Clock isn't very stable/reliable. When using a midi clock to sync, the midi clock will fluctuate slightly between the 2 applications. This will often break the sync between the 2 applications and it can take several seconds for the midi clock to go back in sync. The midi clock becomes really unstable when the tempo changes, making it really impractical for DJ's/VJs that are moving between different BPM ranges.
What does this mean for VJs?
If you're trying to sync up visuals with a DJ, the visuals will fall out of time with the music and you'll notice a delay/lag between the timing of the visuals and audio.
Syncing with midi clock is also built around a master/slave relationship. One computer/software is the master and anything else that's connected to it is the slave. This means the only person that can actually change the tempo is the one running the "master" application.
Finally midi clock requires a lot of tweaking and there is a lot of setup required. You have to route the input/output connection between applications and you'll likely need to adjust the "clock offset". The reason is the midi clock rarely lines up the first time which requires adjusting a delay/offset until the midi clock is in sync between the 2 applications.
This is all quite a pain in the ass, how does Ableton Link fix all this?
Ableton Link = Plug and Play Sync For Resolume 6
Ableton Link fixes a lot of the shortcomings of syncing with midi Clock.
Link is designed to be nearly plug and play. All that's required is for computers to be on the same local network (Wifi or wired). In supported software you'll find a "Link" button. There's no routing to configure and no cables to setup (optional: create a wired connection to ensure that wireless stength/signal isn't an issue).
To create a connection, both software simply need to have "Link" turned on. As long as they're on the same local network they'll automatically detect each other and connect.
Multiple computers/software can also connect to each other. Link will display a number indicating the number of devices that are connected. According to Ableton there is theorhetically no limit to the number of Link connections. The only limitation is if the network gets too crowded, apps can lose connection. Ableton says it would take an extreme amount of users to make this happen though :).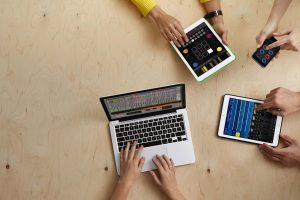 What's really cool is that it will even sync Link supported apps running on the same computer. So if you're both the DJ and VJ and you're running Resolume + DJ software on your computer, they'll easily sync up.
Compared to Midi Clock the sync between devices is really tight. You can drastically change the tempo and all the other applications will immediately follow without breaking the sync.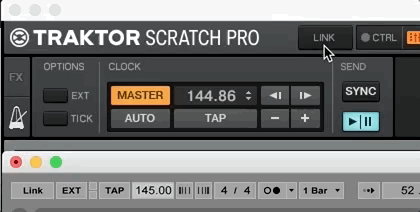 Link also does away with the Master/Slave relationship. Which means that everyone is in control. At any point anyone can change the tempo and the other applications will follow. The other benefit of this is that at any point people can join or leave the Link session and it doesn't interrupt the connection. The other applications will continue what they were doing.
This is something to be aware of if you're using Link with a DJ. If you change the tempo In Resolume that will change the tempo of the DJs software. In most case it's likely that the DJ/audio is headlining the performance. For this reason it's best to leave the BPM alone in Resolume once you've connected to the DJ.
What Software Supports Ableton Link?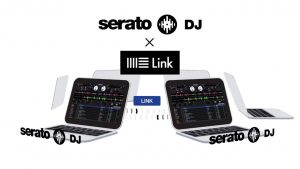 Ableton Link is open source which means that anyone can add it in their software if they choose to. As mentioned earlier Resolume 6 Beta just added this feature but what other software supports it? Here's a brief list of some popular apps that support Ableton Link:
DJ/Production Software
Traktor Pro 2 (Requires 2.11.0)
Serato DJ (Requires 1.9.3)
Ableton (Requires Live 9.6)
Bitwig (Requires 2.2)
Maschine (Requires 2.5.5)
One notable app that's missing from this list is Pioneer DJs Rekordbox. Who knows if it will be added. Link is also available in several iOS applications as well. You can see a full list of all apps with Link here: Link supported apps
Are There Any Limitations To Ableton Link?
Link is primarily meant for syncing the tempo and creating a grid for apps to align to. That means it can't be used for triggering playback or features in other apps. So DJs couldn't use to automatically trigger loops in Resolume.
It's also not possible to prevent certain apps from setting/changing tempo. Which is why it's best for one person to primarily control the tempo such as the DJ.
So what happens if multiple people try to change the tempo at the same time? Ableton says this will result in a "tempo fight" and the last app that made tempo changes will win.
The last limitation is that using Link requires both software to support the feature. So if you're working with someone that doesn't have this feature and you do, it's not possible to Link with them.
How To Use Ableton Link In Resolume
Using Link in Resolume 6 is insanely easy. By default the option is hidden, you'll need to click "View" in the menu bar and check "Show Ableton Link". Now you'll see a "Link" button beside the BPM/tempo in Resolume. Click to turn it on and you're ready to connect to another Link enabled app.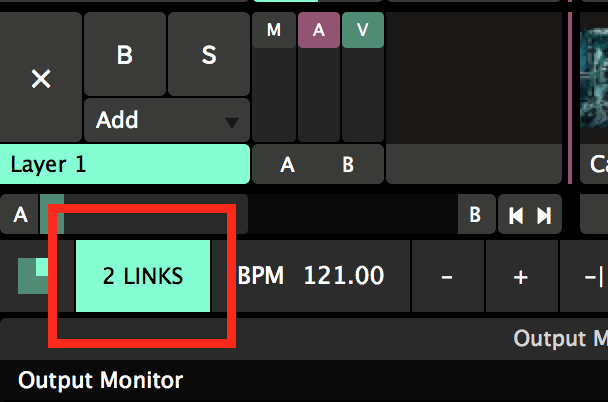 Once you have Resolume synced with another application you can now take advantage of BPM synced effect animations that will stay perfectly in sync with the music. And if there are any changes in tempo, Resolume will follow and stay perfectly in time.
More Resolume VJ Tutorials: