Did you know that you can stack duplicate effects to create generative VJ Loops in Resolume? In today's VJ tutorial we're going to continue showing how beginners can create easy generative VJ loops using nothing but Resolume and it's built in effects.
Creating Your Own VJ Loops (Even If You Know Nothing About Animation)
This tutorial is aimed at beginners who are just starting to VJ and want to learn how to create their own VJ loops.
The good news is you don't need to know anything about animation or how to use 3D software like Maya or Cinema 4D. Everything we're going to make today is done in Resolume. If you don't know where to begin or you've been looking for VJ tutorials to help you get started, you're in the right place.
How you'll feel after making your first VJ loop
This tutorial isn't going to leave you with a list of software and send you on your way. It's also not going to be a slowww tutorial. You can make something in 5 minutes.
This tutorial builds off a previous tutorial, making your first generative visual in Resolume. If you missed it the first time check it out and come back.
Using Duplicate Effects To Create VJ Loops
In the previous tutorial we started making our visual by using the Lines and a simple Mirror effect to create a big animated arrow. We're going to build off that first loop by simply adding another Mirror Effect. 
Using 2 Mirror Effects you can achieve something like this in no time: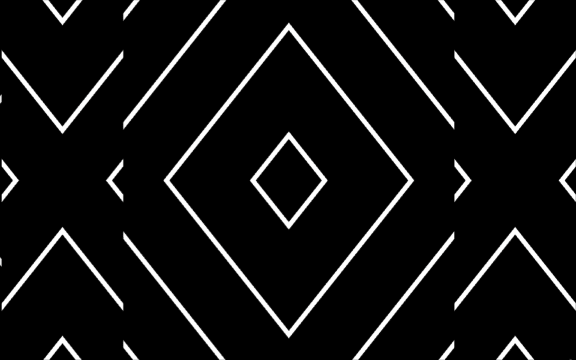 In theory you could use even more Mirror Effects and you'd get even crazier results. However the goal for this tutorial is to be simple and easy so you have no excuse to not start, so for now we'll stick with 2 Mirror Effects.
Step By Step: VJ Loops Using 2 Mirrors in Resolume
The benefit of only using Resolume and it's built in effects is the speed and immediate feedback. You don't need expensive 3D software and you don't need to wait for anything to render. You'll see all your changes in realtime. Let's get started.
Go to the Sources  tab and drag "Lines" onto an empty clip
Set the "Rotation" parameter for your Lines to 0.13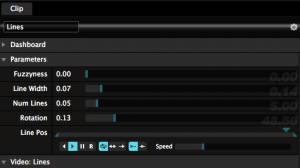 Go to Effects tab and drag "Mirror" onto the clip
Set the X value of the Mirror to 0.89, you'll notice the visual starting to bend in the middle

Now you're going to drag another Mirror effect onto the same clip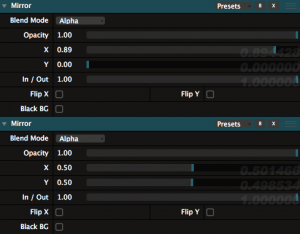 Set both the X and Y parameters on the second Mirror Effect to 0.50
Now the last step is to animate it. Again like in the previous generative VJ loop tutorial, we're going to simply animate the Line Pos parameter. Click the small drop down arrow to the left of "Line Pos" to reveal the Animation Controls. Choose Timeline and adjust the Speed slider to your liking.
Victory: You Just Made Your Second VJ Loop

Congratulations, hooray. You just made your second VJ loop. This is actually a big step. Don't overlook it. One of the hardest things about learning to VJ is knowing where to start.
There's a lot of information out there and it can feel overwhelming. The best way to learn is so start small and simple, it's a lot easier to manage and doesn't feel so intimidating.
Did you find this tutorial helpful? What else would you like to learn? Feel free to leave a comment below!